How Social Media influences Hotel Design
Shannon Davis, Marketing Communications Assistant at DiLeonardo
May 2019
In 2019, scrolling through an Instagram feed is more commonplace than eating sliced bread. One billion active Instagrammers a month open their feeds each morning to see grandiose images of influencers eating breakfast in Turkey on a rooftop deck with whimsical hot air balloons floating in the distance, couples jumping from a mile-long rope swing into crystal blue water in Bali, and beautiful young women dancing in the streets of Greece as whitewashed walls enhance their tan skin.
As average Joes, we strive to return home from a trip abroad with a photograph that can compare to the rest of our Instagram feeds. Ultimately, it is up to the travelers to choose where they will set up the tripod; but it is up to designers to create the opportunity for a great memory with a little help from thoughtful design. "If we build it, they will come" …
Designing Moments
As social media becomes more of a basis for free advertising (both for hotels and design firms), designers are tasked with creating photographable moments that capture the essence of a location in one 3 x 3 inch shot. Designers are challenged with planting the idea for a photographable moment into the mind of the photographer without revealing it too explicitly, and without concealing so much that it is never seen, a real world Easter egg. A successful Instagram moment is intimate, unique, and personal. This design by our team included a #mirrorreminder in each of Renaissance Toledo's guest bathrooms as an authentic, positive note from designer to guest.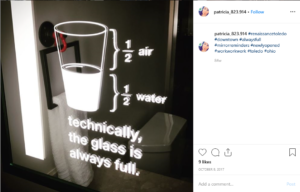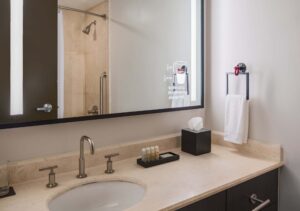 Designing for Photography
As designers, playing with a photographer's best tool – light—is the key to creating the perfect setting for an Instagram moment. If a space looks drop-dead-gorgeous in person, it will only translate well to a phone camera with thoughtful lighting design. Hospitality design must consider light in all its shapes and forms (golden hour, blue hour, filtering, color changing, reflecting, and illuminating) as a feature to ease the challenge of the photographer.
And let's not overlook the average Joe, who may have limited photography skills: as the digital photograph increasingly becomes the standard souvenir—a token representing an experience– designers must also rise to the challenge of delivering that experience to hotel guests like Joe through great lighting, composition, and feeling.
Enjoy some of my favorite DiLeonardo design moments shared through Instagram…
It is a major responsibility as well as a great privilege for designers to find ways to share an intimate dialogue with guests of the space.
Many of us can go through a whole day without ever noticing art, culture, dance, or beauty; But what would travel be without these things? In today's economy of tourism, the definition of hospitality must take on another meaning: hospitality to the body, soul, and evidently, the camera.